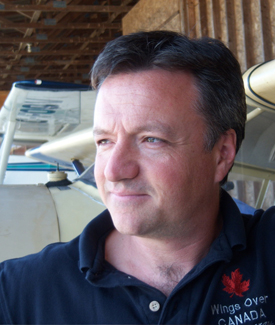 Whether you want aerial views of majestic scenery, quirky interviews with folks living off the grid, a step back in time to walk in the footsteps of pioneers, or to explore unique arts and cultural destinations, Wings Over Canada delivers some of the most interesting and compelling human moments. Already an aviation classic, this series takes a lighthearted look at Canada, its people, history and customs. No subject escapes our flight crew as they work their way from ghost towns and remote fly-in fishing lakes to gold mines in search of their next unique adventure.
With humour, good will and a self-deprecating manner that many have come to identify with the quintessential Canadian personality, our pilots celebrate the natural beauty and authenticity of Canada's diverse landscape.
Explore our series from its humble beginnings to the introduction of new host Darren Adam, who takes viewers on a unique journey as he gains his float rating. He also visits Kelowna, BC on the 5th anniversary of the Okanagan Mountain Park Firestorm and hears eyewitness accounts of the inferno's devastation. Darren travels to beautiful Manitoba to check out the eco-friendly Falcon Trails Resort where loyal guests keep coming back year after year to ski or snowboard in the winter and indulge in some quality summer 'laketime'.
For a change of pace, Darren joins international travelers on The Rocky Mountaineer, fast becoming one of the world's favourite train trips. Wings Over Canada may have started out as a fishing show but it has grown into so much more. Buy from our Series and experience armchair travel at its best.